Międzynarodowa Wystawa Orchidei - Łódź 2019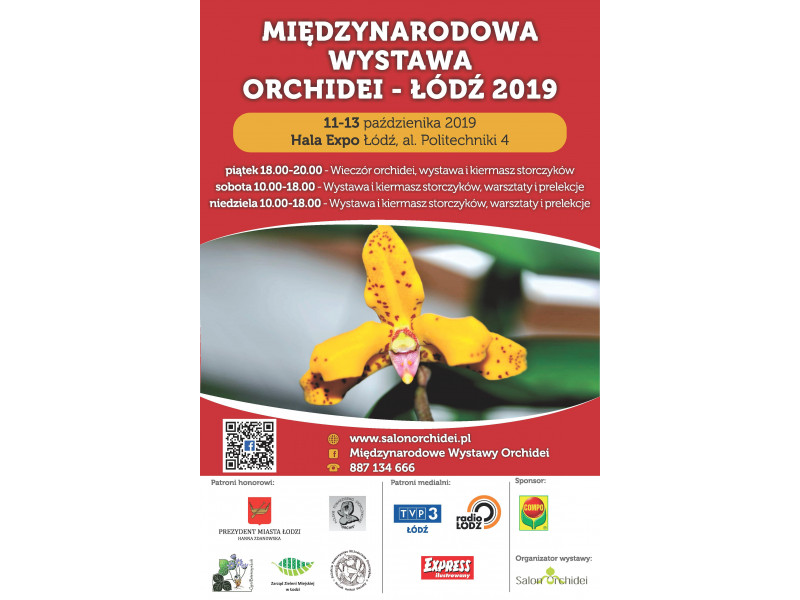 Międzynarodowa Wystawa Orchidei - Łódź 2019 
11–13. 10. 2019
Łódź, Hala Expo, al. Politechniki 4
Mamy przyjemność poinformować, że w Łodzi po 33 latach przerwy, organizujemy Międzynarodową Wystawę Orchidei. Ostatnie takie wydarzenie miało miejsce w dniach 29 listopada – 2 grudnia 1985 roku w łódzkim Teatrze Wielkim.
Chcemy powrócić do tradycji i dlatego w dniach 11 – 13 października 2019 roku w Hali Expo przy al. Politechniki 4 odbędzie się kolejna Międzynarodowa Wystawa Orchidei.
International Orchid Show – Lodz 2019
11–13. 10. 2019
Łódź, Hala Expo, al. Politechniki 4
We are pleased to announce that in Lodz after 33 years of break, we organize the International Orchid Exhibition. The last such event took place from November 29 to December 2, 1985 at the Teatr Wielki in Łódź.
We want to return to tradition and therefore October 11 – 13, 2019 in Hala Expo at al. Politechniki 4 will be the next International Orchid Exhibition.
Lista wystawców, którzy potwierdzili swój udział w wystawie:
Wystawcy:
Niemieckie Towarzystwo Miłośników Storczyków - Grupa Berlin (Niemcy)
Ogród Botaniczny w Łodzi (Polska)
Polskie Towarzystwo Miłośników Storczyków (Polska)
Storczykarnia w Łańcucie (Polska)
Wystawcy i sprzedawcy:
Artefiks – Hand Made Alicja Bednarek
Dorota Fijałkowska (Polska)
Equaflor-A (Ekwador)
Gärtnerei Lehradt (Niemcy)
Gospodarstwo Ogrodnicze Królikowscy (Polska)
Lukscheiter (Czechy)
Mt.Sumagaya Creek Orchids (Filipiny)
NT Orchid Nursey (Malezja)
Obuwiki – storczyki w ogrodzie (Polska)
Salon Orchidei (Polska)
Piotr Dzieduszyński – Uprawa Lithopsów (Polska)
Piotr Kleszczyński – Streptocarpus (Polska)
Usługi Ogrodnicze Celina Kozubek-Euejda (Polska)

Patroni honorowi:

Prezydent Miasta Łodzi Hanna Zdanowska
Ogród Botaniczny w Łodzi
Zarząd Zieleni Miejskiej w Łodzi
Polskie Towarzystwo Miłośników Storczyków
Polskie Towarzystwo Storczykowe "ORCHIS"

Patroni medialni:

TVP3 Łódź
Radio Łódź
Express Ilustrowany

Sponsor:

COMPO
List of exhibitors who confirmed their participation in the show:
Exhibitors:
German Orchid Society - Berlin Group (Germany)
Botanical Garden of Łódź (Poland)
Polish Orchid Society (Poland)
Orchid Garden of Łańcut (Poland)
Exhibitors and sellers:
Artefiks – Hand Made Alicja Bednarek (Poland)
Dorota Fijałkowska (Poland)
Equaflor-A (Ecuador)
Gärtnerei Lehradt (Germany)
Królikowscy Horticultural Center (Poland)
Lukscheiter (Czech Republic)
Mt.Sumagaya Creek Orchids (Philippines)
NT Orchid Nursey (Malaysia)
Obuwiki – storczyki w ogrodzie (Poland)
Salon Orchidei (Poland)
Piotr Dzieduszyński - Growing of Lithops (Poland)
Piotr Kleszczyński – Streptocarpus (Poland)
Gardening Services Celina Kozubek-Euejda (Poland)